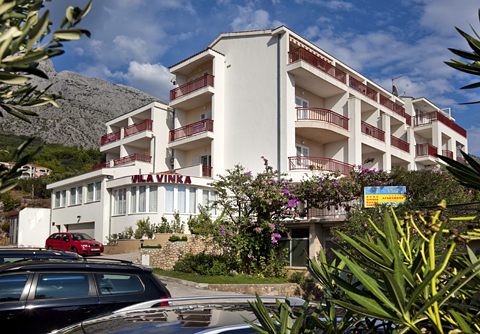 In Tucepi, situated like a pearl on the Makarska riviera , in the quiet surroundings of Mediterranean fauna lies Villa Vinka glowing with a romantic atmosphere which readily attracts guests.
The magic of this Villa is the intimate family atmosphere she generates, for not only was she built by the Covic family, but she is managed and run by them as well. At Villa Vinka we emphasize that the smile of a satisfied guest is the greatest reward. The hosts are not only the owners, but also make up the majority of personnel which ensures a service with heart that you can't get in larger hotels.
For us, every guest is special and we try to make them feel as if they were at home. We also strive to provide a vacation that they will long remember. Our success is obvious, for many of our guests have been returning for more than 30 years. We'd like to thank them all for making that possible.
In the complex of Villa Vinka lies a fashionably decorated restaurant with bar and terrace, providing full-board service serving domestic, well known and original Dalmatian specialties as well as international ones.
You'll also find a lobby and reception desk with internet services. All areas are newly furnished and air-conditioned.
In the evenings, you can keep up good spirits by enjoying a glass of wine on the spaceous terrace infront of the Villa. Our wine is made from the grapes of local vinyards.
The vicinity of the beach (100m), sports courts, promenade, restaurants and all other facilities necessary in making a vaction complete are the biggest guarantee that your stay will be pleasant and rich in quality. We also ensure parking space for all our guests.
Our family Villa is described in the book of well known German travel book author Alfred Mueller  "Kroatien - Kustenstrasse und Inseln" Motorrad -Reise.